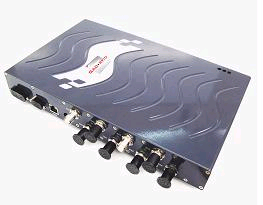 Toronto, Canada – GAO RFID Inc. has launched its high performance contactless semi-passive RFID reader, which provides industry-leading range and read/write reliability. The reader is used for such applications as asset tracking, inventory control and supply chain management. The robust design allows the reader to perform well even in harsh environments such as around liquids, metals and other RF-unfriendly conditions, which ensures the read ability of even fully loaded pallets and containers.
This semi-passive UHF RFID reader, model 236005, is capable of reading EPC-compliant passive tags, as well as next-generation Class 3 battery-assisted passive tags. The reader's proprietary software eliminates missed tag reads, and its high sensitivity allows up to 50 meters read range in free space. It operates in the frequencies range of 902MHz to 928MHz and runs under Linux operating system. This optimized semi-passive RFID reader is configured with antennae ports including four transmit ports and four receive ports. It offers visual status indicators: a green LED for power, a yellow for activity and a red for error.
Visit http://www.GAORFID.com for more information.
For any sales inquires please contact:
1-877 585-9555 ext. 601 – Toll Free (USA & Canada)
1-416 292-0038 ext. 601 – All Other Areas
For more information about this product please visitsemi-passive RFID reader, or contact sales@gaorfid.com.