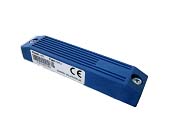 Toronto, Canada – GAO RFID Inc. has launched its high performance contactless beaconiang RFID tag with outstanding long-range reading capabilities for wireless applications. This beaconing tag is appropriate for tracking mobile assets, controlling access or online inventory, and locating assets or personnel in designated areas. Encapsulated within a durable case with an IP65 protection rating, the well-designed tag is resistant to dust and water and operates stably even in harsh environments.
GAO RFID Inc.'s active UHF beaconing RFID tag, model 137001, operates at a standard frequency of 868MHz for Europe or 915MHz for North America. This active RFID tag sends data to a mobile or fixed reader at distances of up to 100 meters. Static data written to the RFID tag is transmitted at a programmable interval without requiring a request. Its ultra-low power consumption and configurable ping rate enable the tag to work effectively for many years without additional maintenance.
Visit http://www.GAORFID.com for more information.
For any sales inquires please contact:
1-877 585-9555 ext. 601 – Toll Free (USA & Canada)
1-416 292-0038 ext. 601 – All Other Areas
For more information about this product please visit beaconiang RFID tag, or contact sales@gaorfid.com.