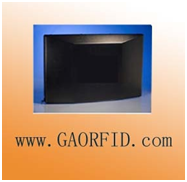 Toronto, Canada – GAO RFID Inc has released a UHF guardwall antenna which is RoHS compliant and designed for item-level reading of densely packed goods. This antenna provides a tightly controlled read zone to minimize stray reads and its intense RF field penetrates deep into packed cases.
This Guardwall antenna, model 326012, operates at 902 to 928MHz for North America and 865 to 868MHz for Europe. The antenna is designed to work in pairs and absorbs energy from its opposing mate. By constraining the read zone to the area between two antennas, this combination maximizes stray read rejection and increases read reliability.
Visit for more information.
For any sales inquires please contact:
1-877 585-9555 ext. 601 – Toll Free (USA & Canada)
1-416 292-0038 ext. 601 – All Other Areas