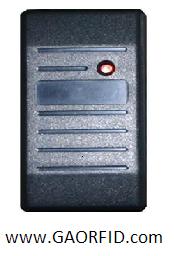 Toronto, Canada - GAO RFID Inc. is offering its 125 kHz HID card reader. This HID card reader provides innovative radio frequency (RFID) and Wiegand solutions for automated identification and data transmission in access control, computer security and asset tracking applications.
This high performance 125 kHz HID card reader, model 211003, offers a read range up to 15 cm with a fast identification speed of 0.5 s per tag. It provides Wiegand 26 output format at a transmission distance of up to 150 m. In addition, its rugged, weatherized polycarbonate enclosure ensures a successful operation in harsh environments.
This low frequency HID card reader belongs to GAO's family of 125 kHz LF RFID Readers. This line also has other featured products including 125 KHz RFID LF Bluetooth Reader which uses Bluetooth (Class Two) technology to upload tags ID to Bluetooth based computers/PDAs in a real-time mode, Automatic Tour Patrol RFID Reader which has a large memory capacity which can store 7200 records and 125 kHz or 13.56 (LF or HF) MHz Dual Frequency RFID Reader which can read the unique serial number and can have prefix or suffix.
GAO RFID Inc. has also provides various solutions that are compatible with RFID readers and tags so that the users can choose whatever they need. For example, GAO's RFID Access Control Solution is a performing and efficient access control system required by most organizations today for enhanced security to limit access to restricted areas, tracking employee activity and improving loss prevention. GAO becomes the best choice with its good quality, specific features, multiple functions, and competitive prices. Most of our customers in North America such as Los Angeles, San Diego and Miami are satisfied with our products and our best services.
For sales inquiries please contact:
1-877 585-9555 ext. 601 – Toll Free (USA & Canada)
1-416 292-0038 ext. 601 – All Other Areas
Tags: HID Card Reader