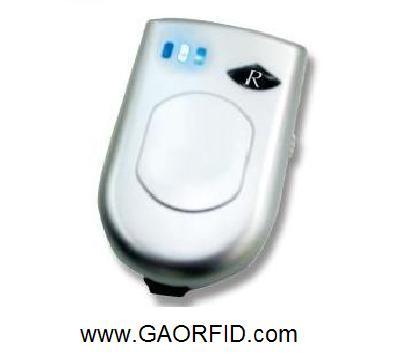 Toronto, Canada – GAO RFID Inc. is offering its 13.56 MHz RFID HF Bluetooth reader/writer which is compatible with most kinds of HF (13.56 MHz) cards. It is commonly used in the industries of security patrol, mining, finance and railway systems.
This high frequency RFID Bluetooth reader/writer, model 223012, uses Bluetooth (Class Two) technology to upload tags ID to Bluetooth based computers/PDAs in a real-time mode and data can be automatically updated and viewed in the real-time mode through any kind of text editors on PCs or PDAs. It works with WinCE 5.0 or Windows Mobile 5.0/6.0 based SmartPhones or PDAs.
This palm sized RFID reader/writer provides a reading distance of 6 cm (tag dependent) and a Bluetooth transmission distance of more than 10 m. This reader/writer transfers data through both wireless Bluetooth and USB interface and also offers free SDK to the customers. It is powered by a 3.7 V 950 mAh rechargeable lithium battery that allows to continuously read tags for up to 6000 times per charge.
This compact HF RFID Bluetooth reader/writer belongs to GAO's family of 13.56 MHz RFID Readers. This line also includes USB Enabled HF RFID Reader/Writer which is designed for the desk-top and is available for both UHF and HF RFID frequencies, Rugged Handheld Terminal RFID Reader which is highly durable and rugged and can withstand drops from five feet to polished concrete or shock and vibration consistent with a truck or forklift mount and 13.56 MHz Mifare DESFire RFID Reader which provides Wiegand and TK2 interfaces as well as optional RS232 or RS485 interfaces.
GAO RFID Inc. also offers various solutions such as Railway Industry Solution which is available in a number of configurations designed to economically meet a full range of service requirements. Reader systems provide automated tracking of railcars via RFID tags, and make railcar location information available to railroads for asset management and other purposes.
For sales inquiries please contact:
1-877 585-9555 ext. 601 – Toll Free (USA & Canada)
1-416 292-0038 ext. 601 – All Other Areas