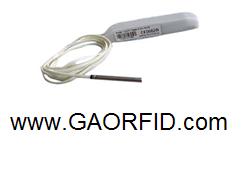 Toronto, Canada – GAO RFID Inc. is offering its UHF long-range active RFID tag. It enables users to collect highly accurate, real-time data for identification, tracking and tracing, and localization. This tag is often used in conjunction with GAO RFID Inc.'s Access Control Software System to achieve remote management through website interface, which is compatible with various RFID hard wares and provides group management and customizable reporting.
This long-range RFID tag, model 137003, has an expandable memory of 32,000 bytes for massive information storage, an LED for visual recognition, and an internal sensor for temperature monitoring. It conveys data via progressive UHF radio frequency technology at distances of up to 100 feet from a handheld device or up to 300 feet from a fixed interrogator. UHF operating frequencies allow low-power and long communication for efficient operation.
This RFID tag features low cost, non-line-of-sight data transmission, temperature logging, industrial housing and 6-year battery lifetime. It offers a 100-tag/s identification rate and up to 2000 tags can be identified virtually simultaneously. In addition, its outstanding anti-collision multi-tag-handling algorithm provides clear communication to a large number of tags for tracking of assets or people.
This tag belongs to GAO's family of RFID Semi-Passive Tags. This line also includes Active RFID UFH Beacon Tag which uses advanced UHF technology and sends data to a mobile (handheld) or fixed reader (interrogator) at distances of up to 100 m, RFID Position Markers which is positioned near the induction loop and remains maintenance-free after setting the original parameters and Semi-Passive RFID Response Tag Series which offers precision real-time data collection for the identification, tracking, and localization of assets or people.
Whether it's for secure access, event management, personnel tracking, or patient care, GAO RFID Inc.'s Solution for People Tracking is becoming an essential part of business. Keeping track of employees entering the building will help you manage your team better. Keeping track of who crosses access points will ensure a much safer security system. Keeping track of everyone entering a tradeshow will definitely help the sales teams. With GAO RFID you are able to track people in a wide variety of situations for your specific purpose. Using RFID will help improve the efficiency, security, and overall profitability of your business.
For sales inquiries please contact:
1-877 585-9555 ext. 601 – Toll Free (USA & Canada)
1-416 292-0038 ext. 601 – All Other Areas