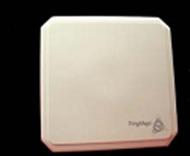 Toronto, Canada – GAO RFID Inc. has launched its high performance contactless integrated UHF RFID reader , which offers an enterprise level, high performance yet low cost EPC Gen 2 RFID solution. It is ideally suited for commercial and industrial applications where unobtrusive deployments with a minimum of cabling, readers and antennae are required. The reader also supports thread safe local applications and remote applications under Windows. It operates over a frequency range of 902 to 928MHz for American standards and 865.6 to 867.6MHz for European standards.
The Integrated UHF RFID reader, model 236013, has variable read and write levels which are configurable from 5dBm to 30dBm (1W) ±1.0dBm increments. It offers a maximum read distance of 30ft (9m) with a 6dBi antenna (36dBm EIRP) and a read rate of up to 190 tags/s. The RoHS compliant RFID reader provides Cisco-certified DHCP and DNS based configuration, firmware management, TCP/IP networking stack and SSL/SSH-based security. Supported connectors include 10/100 Base-T Ethernet interface, RS232 serial port and 12-pin screw terminal connector. This compact RFID reader has 64MB DRAM memory and 32MB Flash memory for data storage.
Visit http://www.GAORFID.com for more information.
For any sales inquires please contact:
1-877 585-9555 ext. 601 – Toll Free (USA & Canada)
1-416 292-0038 ext. 601 – All Other Areas
For more information about this product please visit integrated UHF RFID reader , or contact sales@gaorfid.com.