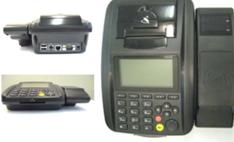 Toronto, Canada – GAO RFID Inc. has launched its high performance contactless 13.56MHz reader/writer, with an LCD display screen and an integrated keypad. It adheres to MIFARE I and ISO15693 contactless RFID standards that enhance collection of information associated with RFID cardholders. The portable RFID reader/writer is suited for RFID identification applications and associated data input such as end-user sales information at POS. It allows data exchange via RS232 serial port and a standard POTs telephone line to a central computer.
This low frequency RFID reader/writer, model 233005B, includes a 32-bit ARM processor, an embedded MODEM, RFID modules and an internal thermal printer. It has a maximum read and write distance of 8cm when working with ISO14443A compliant transponders. The smart read/write unit supports a baud rate of 19,200bps and reads smart cards and double SAM cards. It is resistant to water and dust with an IP40 protection rating and performs reliably even in harsh environments as it is encapsulated within an ABS case.
Visit http://www.GAORFID.com for more information.
For any sales inquires please contact:
1-877 585-9555 ext. 601 – Toll Free (USA & Canada)
1-416 292-0038 ext. 601 – All Other Areas
For more information about this product please visit 13.56MHz reader/writer, or contact sales@gaorfid.com.