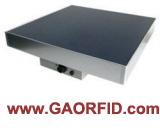 Toronto, Canada – GAO RFID Inc. has launched this versatile and rugged RFID reader. It provides a long read range and high read rate. This integrated RFID reader can be used both indoors and outdoors. It is commonly used in applications such as at warehouse dock doors, on forklifts, parking lot gates, outdoor patrolling vehicles, highway toll stations, livestock tracking and container ports.
This long range integrated RFID reader, model 216012, is available in a variety of frequencies for use globally and is compliant with ISO18000-6C and EPC UHF Class 1 Gen 2 standards. It has a dense reader mode and offers reliable performance when used in dense reader environments. The reader enables a best read zone control and provides a read range of 9 to 13 m with compatible transponders. It features Ethernet connectivity and power though 12 Volt DC supply or POE. Its durable design enables it to withstand harsh environment and to work reliably under a wide temperature range of -20 to 60 °C.
This versatile integrated RFID reader belongs to GAO's family of 900 MHz (UHF) RFID Readers. The line includes a wide variety of RFID readers to meet customers' different needs. Some featured products in this line include UHF 902 MHz Gen 2 Portable Handheld RFID Reader Writer, 902 MHz RFID Gen 2 UTE Portable Reader Writer and Rugged Handheld Terminal RFID Reader .
For sales inquiries please contact:
1-877 585-9555 ext. 601 – Toll Free (USA & Canada)
1-416 292-0038 ext. 601 – All Other Areas
Tags: integrated RFID reader