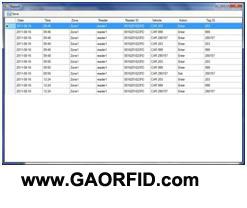 Toronto, Canada – GAO RFID Inc. is offering an embedded parking control solution which is a fully standalone system with no networking or programming needed. This embedded parking control system is reliable, convenient and user friendly. The software, model 617018, is embedded right in the reader located at the entrance or barrier into the parking lot.
With this software embedded in the reader, all your parking control needs will be efficiently taken care of.  Using the software on a desktop computer, you enter and activate the tags with the information on each tag. Once you plug the USB with this information into the reader at the entrance, the system is ready to go. Data exchange is easily conducted by simply using a USB stick. When history log information is needed, you can simply insert a USB into the port on the reader and this information can be uploaded and transferred to the desktop. These logs can then be viewed to see who and when each person is using the parking premise.
This parking control system features 24 hour unmanned operation as cars with valid tags will be automatically allowed into the premise with no need for monitoring of the gate. The system is able to control multiple parking zones simultaneously. Tag holders can be divided into different groups. The system administrator can add different tag holder groups to different parking zones so that vehicles from each group can only enter specific parking zones.
This parking control system belongs to GAO's family of RFID Software. The line offers a wide variety of RFID software such as RFID Access Control Software System, RFID Asset Tracking Software System and RFID Car Wash Management Software System to serve your different needs.
For sales inquiries please contact:
1-877 585-9555 ext. 601 – Toll Free (USA & Canada)
1-416 292-0038 ext. 601 – All Other Areas