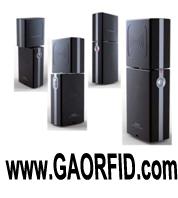 Toronto, Canada – GAO RFID Inc. has launched this handheld UHF Gen 2 Bluetooth RFID Reader/writer. The portable RFID interrogator features a swivel read head to allow for the best read rates regardless of tag orientation and for comfortable operation by the user. It is suitable for applications such as access control, asset tracking, warehouse management, livestock tagging or other applications where UHF Gen 2 mobile handheld tracking terminals are required.
This advanced Gen 2 RFID reader/writer, model 246008, is available in a variety of frequencies for use in North America, Europe, Japan, Korea and elsewhere. It offers flexible options for data transfer to a host through Bluetooth or USB which allows for easy connection to devices such as PDAs, laptops or smart phones. The device's simple trigger button offers ease of operation and an LED displays read status. The ultra high frequency Gen 2 Bluetooth RFID interrogator is compatible with ISO 18000-6C, EPC Class1 Gen 2 tag protocols and provides a reliable read range of 3 to 5 m. It features increased sensitivity while still rejecting interference boosting performance in challenging dense reader environments. Its smart design and high performance make it very popular among other similar Gen 2 RFID readers on market.
This UHF Gen 2 RFID reader/writer belongs to GAO's family of 900MHz (UHF) RFID Readers. The line includes a wide variety of RFID readers to meet customers' different needs. Some featured products in this line include UHF 902 MHz Gen 2 Portable Handheld RFID Reader Writer, 902 MHz RFID Gen 2 UTE Portable Reader Writer and Rugged Handheld Terminal RFID Reader .
For sales inquiries please contact:
1-877 585-9555 ext. 601 – Toll Free (USA & Canada)
1-416 292-0038 ext. 601 – All Other Areas