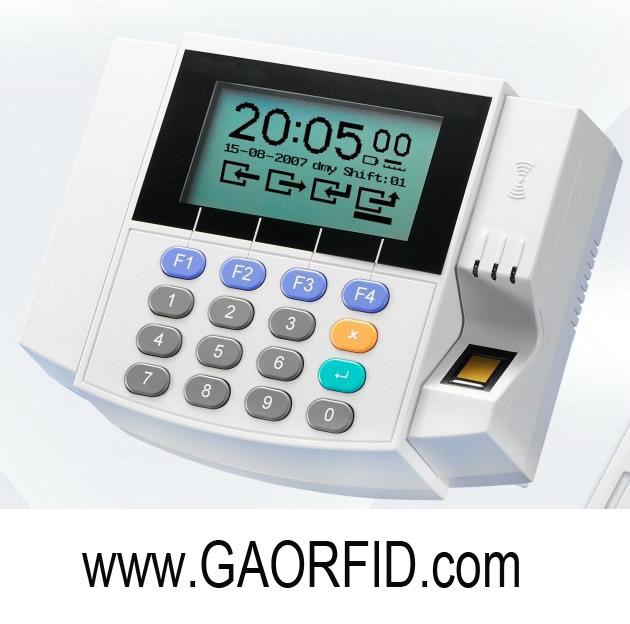 Toronto, Canada – GAO RFID Inc. is offering its fingerprint and Mifare card recorder which is the latest addition to GAO' family of 13.56 MHz High Frequency RFID Readers. This time and attendance recorder is available for both fingerprint identification and RFID Mifare card identification.
GAO RFID Inc.'s advanced fingerprint time recorder, model 223021, can be used in either wall-mount or desktop operation. It features fast fingerprint identification and users need only place his/her fingerprint on the terminal and a new database record is created within a second. The created record includes an ID, coded fingerprint and date and time stamp. It offers a storage capacity of 12000 records and 1900 fingerprints.
This biometric fingerprint and Mifare card recorder boasts online communication capability and is compatible with TCP/IP communication interfaces. Up to 32 sets of ring bell options are offered and a built-in relay is also provided for external bell control. It has auto downloading, multiple language options and auto emailing functions. The time recorder also features a compact size, and a black and white graphic LCD.
This fingerprint time recorder belongs to GAO's family of 13.56 MHz High Frequency RFID Readers. GAO RFID has one of the broadest portfolios of RFID readers and tags in the industry. A similar product in this family is RFID Fingerprint Reader which is widely used for attendance monitoring and access control. The line also includes 13.56 MHz Smart Label RFID Reader, Configurable Mifare® Sector Reader, Mifare RFID Reader and other similar products.
For sales inquiries please contact:
1-877 585-9555 ext. 601 – Toll Free (USA & Canada)
1-416 292-0038 ext. 601 – All Other Areas
Tags: biometric time recorder