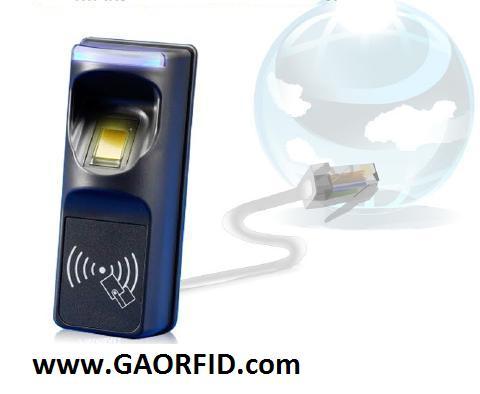 Toronto, Canada – GAO RFID Inc. is offering its RFID Fingerprint Reader which fully integrates fingerprint and RFID technology. It is well-suited for access control and time attendance application.
This compact RFID fingerprint reader, model 223020, offers unparalleled performance using an advanced algorithm for reliability, precision and excellent matching speed. It is compliant with ISO 14443A standard and boasts a maximum read distance of 5 cm. The reader features one of the fastest response times in its class and supports Mifare MAD1/MAD2 format. Its fingerprint + card option can store fingerprint templates directly on the RFID card rather than requiring a system database.
The RFID fingerprint reader provides a standard TCP/IP interface and its Web Management Discover Software is designed for single or multiple reader configuration installed anywhere in the world. It boasts four interfaces in one device including TCP/IP (10/100 Base), RS232, RS485, Wiegand, and ABA TK2. The reader stores up to 1900 fingerprint samples and supports online enrolment and relay control.
This easy to use RFID fingerprint reader belongs to GAO's family of 13.56 MHz RFID Readers. This line of products includes a wide variety of high frequency RFID readers to meet customers' different needs. Featured products in this line are Mifare DESFire RFID reader with keypad and 13.56 MHz Smart Label Reader which operates as a configurable block reader. This line also includes 13.56 MHz RFID HF Bluetooth Reader/Writer, 13.56 MHz Document Tracking RFID Reader/Writer Tray and some other similar products.
For sales inquiries please contact:
1-877 585-9555 ext. 601 – Toll Free (USA & Canada)
1-416 292-0038 ext. 601 – All Other Areas
Tags: RFID fingerprint reader