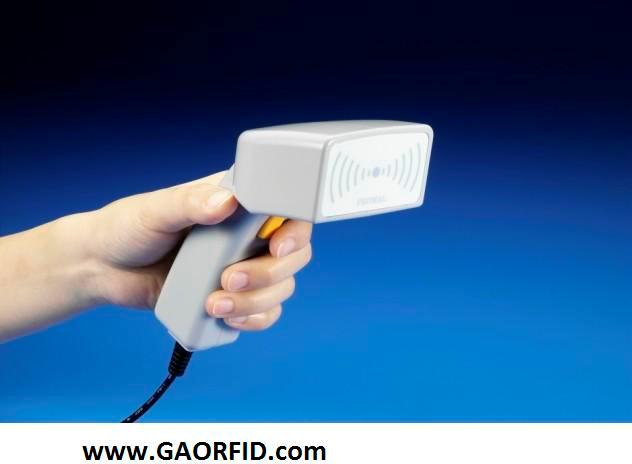 Toronto, Canada – GAO RFID Inc. is offering its 13.56 MHz Smart Label Reader which operates as a configurable block reader.  It is widely used in such applications as logistic control system, library management, and ticketing system.
This handheld and compact RFID reader, model 223019, operates at the frequency of 13.56 MHz and has a maximum read distance of up to 50 mm at 12 V with ISO15693 standard smart labels. It can be configured to output the in hex or decimal format. RS232, USB and USB keyboard emulation are provided.. Its power requirement is 5 Volts regulated DC at 150 mA. In addition, it is housed in ABS packet for protection from harsh environment.
This 13.56 MHz smart label reader belongs to GAO's family of 13.56 MHz high frequency RFID readers. This line of products includes a wide variety of high frequency RFID readers to meet customers' different needs. Some featured products in this line are13.56 MHz Programmable Time Recorder/Mifare RFID Reader, 13.56 MHz Mifare DESFire RFID reader, Biometric Fingerprint and Mifare Card Recorder which is well-suited for access control applications and Configurable Mifare® Sector Reader which is a perfect solution for use in such applications as access control systems, time attendance and POS systems.
For sales inquiries please contact:
1-877 585-9555 ext. 601 – Toll Free (USA & Canada)
1-416 292-0038 ext. 601 – All Other Areas
Tags: Label RFID Reader