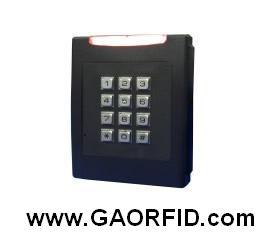 Toronto, Canada – GAO RFID Inc. is offering its Mifare DESFire RFID reader with keypad used in applications such as access control systems, time attendance, guest registration systems and identification authentication.
This Mifare DESFire RFID reader, model 223017, operates at a frequency of 13.56 MHz. It can be configured to read Mifare® DESFire cards with MAD3 or Mifare® MAD1/MAD2 sector standard in a Mifare® application open system, or can be configured to read the user-defined sector data (non-MAD) in a user defined closed system.
The RFID reader features high performance and security, internal LED and buzzer, and a 4 x 3 metal keypad. It provides a maximum read distance of up to 11 cm for Mifare cards and up to 6 cm for DESFire cards with a short read/write time of 1 to 2 ms.
The reader provides Wiegand and TK2 interfaces as well as optional RS232 or RS485 interfaces for data exchange. It has an IP 66 protection rating to secure the critical installation environment. Also it has passed R&TTE and FCC certification.
This Mifare DESFire RFID reader belongs to GAO's family of 13.56 MHz high frequency RFID readers. This line of products includes a wide variety of high frequency RFID readers to meet customers' different needs. A featured product in this line is High Frequency (HF) PDA CF RFID Reader/Writer which is designed to read and write Mifare MF1 tags. This line also includes 13.56 MHz RFID HF Bluetooth Reader/Writer, 13.56 MHz Document Tracking RFID Reader/Writer Tray and some other similar products.
For sales inquiries please contact:
1-877 585-9555 ext. 601 – Toll Free (USA & Canada)
1-416 292-0038 ext. 601 – All Other Areas