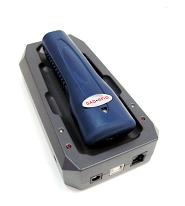 Toronto, Canada – GAO RFID Inc. has launched its high performance contactless 125kHz handheld RFID reader, It is intended for use in applications such as guard tour monitoring systems, remote equipment inspection management, goods delivery and transportation management. This handheld RFID reader features non-key operation allowing it to read tags as they move within reading range.
The low frequency RFID reader, model 221005, is easily connected to a computer via a USB port for data transmission and information management. This light weight RFID reader uses an LED to indicate that it has identified tags in its vicinity. Its large memory capacity holds up to 30716 records and the device has a read range of up to 6cm. This portable RFID reader has an IP67 protection rating and is resistant to shock and water. Additionally, the reader has a long battery life – about two years at a scan quantity of 200 RFID tags per day.
Visit http://www.GAORFID.com for more information.
For any sales inquires please contact:
1-877 585-9555 ext. 601 – Toll Free (USA & Canada)
1-416 292-0038 ext. 601 – All Other Areas
For more information about this product please visit 125kHz handheld RFID reader, or contact sales@gaorfid.com.