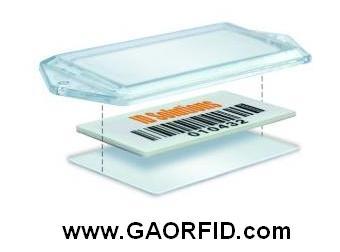 Toronto, Canada – GAO RFID Inc. is offering its passive UHF universal RFID hard tag which features an impact-resistant housing.
This passive UHF universal RFID hard tag, model 116051, operates at a frequency of 915 MHz. Using an inlay design and passive RFID technology, it obtains excellent read range of more than 15 feet regardless of the surface including metal, plastic and wood.
It provides for greater print capability with detailed logos or special designs using a digital printing process. A hermetically welded housing protects the subsurface printed label and RFID inlay from heavy impact and harsh environments such as exposure to UV rays.
This durable tag will also keep read capability even after resurfacing from submersion in over 20 feet of water. It is compliant with ISO/IEC 18000-6C and EPC Class 1 Gen 2 standards. Additionally, the housing of the tag comes standard with two holes for mechanical fasteners, and permanent pressure-sensitive adhesive is also available as an optional affixing method.
This passive UHF universal RFID hard tag belongs to GAO's family of UHF 902 to 928 MHz RFID tags. Featured products in this line include UHF 902 MHz. Magnetic RFID Tag Passive and UHF 902 MHz. Gen 2 Mini Metal RFID Tag – Passive which is specially designed for use in applications where small form factor combined with extreme conditions is encountered. Other tags in the line include Active RFID UHF Beacon Tag which is appropriate for tracking mobile assets, controlling access or online inventory, and localizing of assets or personnel in designated areas, RFID Vehicle Hang Tag and other similar products.
For sales inquiries please contact:
1-877 585-9555 ext. 601 – Toll Free (USA & Canada)
1-416 292-0038 ext. 601 – All Other Areas