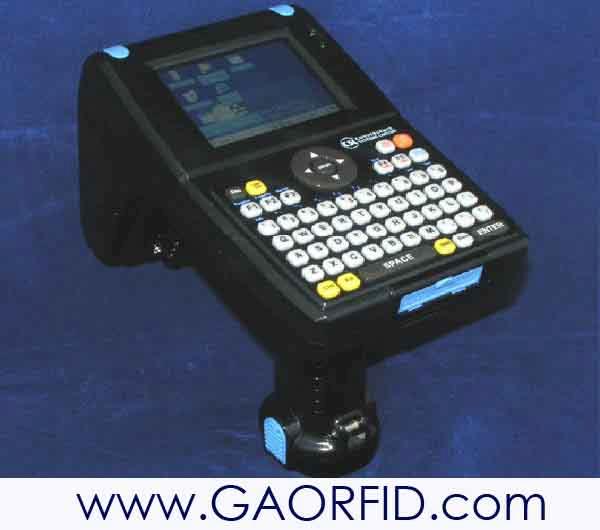 Toronto, Canada – GAO RFID Inc. has launched its handheld UHF RFID reader that offers an industry leading read range of 7 meters in open space and up to 11 meters in an indoor confined area. The handheld RFID reader is widely used for tag inventory, tag ranging, tag search, tag authentication, tag association, tag commissioning, barcode scanning, database manipulation and wireless network transfer.
The ultra-rugged reader, model 246006, has undergone thorough drop testing and withstood 1.5 meter drops on 6 sides. Combined with an exceptional read rate performance, typically 150 tags per second, the reader provides for ultra-fast inventory of items on pallets, warehouse shelves, on moving vehicles, or anywhere fixed reader class performance is required in a portable device. The reader also offers all of the features required in mobile computing and more including Wi-Fi, USB and RS232 connectivity, SD Card slot for external memory, a brilliant 3.5 inch touch screen, QWERTY keyboard, a powerful Samsung processor, trigger button on the handle and bar code scanning. In addition, this handheld reader also offers the choice of linear or horizontally polarized antenna to meet the specific need of the user.
This handheld RFID reader/writer belongs to GAO's family of UHF EPC Gen 2 RFID Readers. The line of products includes a wide variety of RFID readers to meet customers' different requirements. A featured model in this line is UHF GenTop™ Standalone RFID Reader/Writer which is an excellent tool to aid in testing and validating applications designed for use in RFID enabled environments. Other readers in the line include 4-Port Fixed UHF Gen2 RFID Reader and 902 MHz RFID UHF Paddle Reader w/ Bluetooth. GAO RFID has one of the broadest portfolios of RFID readers and tags in the industry..
For sales inquiries please contact:
1-877 585-9555 ext. 601 – Toll Free (USA & Canada)
1-416 292-0038 ext. 601 – All Other Areas
Tags: UHF Handheld RFID Reader