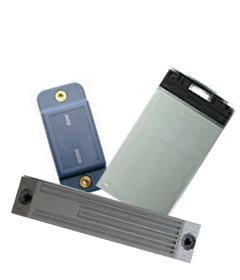 Toronto, Canada – GAO RFID Inc. has launched its high performance contactless semi-passive RFID response tag series , operating in the ISM frequency band of 868MHz to 915MHz. Using ultra-high frequency (UHF) technology, the tags communicate with either a handheld or fixed RFID reader from a distance of up to six meters. They offer precise real-time data collection for the identification, tracking and localization of assets or people without human intervention. These RFID response tags are compatible with GAO RFID Inc.'s UHF RFID interrogator PC card (227001) and UHF RFID reader (227003).
The semi-passive RFID response tag series, model 137005, provides users with a diverse selection of options depending on specific intended use. These units are furnished with credit card-style packaging and industrial housings to ensure  excellent performance even under harsh environmental conditions. Designed with an advanced anti-collision multi-tag-handling algorithm, the reliable RFID response tag series allows for the simultaneous identification of up to 2,000 tags at an identification rate of 100tag/s. The tag series provides an optional LED for visual identification of an addressed tag and offers a 64-byte data memory to store user and configuration information. Additionally, the semi-passive RFID response tag series consumes little power which enables it to operate effectively for over six years without battery replacement.
Visit http://www.GAORFID.com for more information.
For any sales inquires please contact:
1-877 585-9555 ext. 601 – Toll Free (USA & Canada)
1-416 292-0038 ext. 601 – All Other Areas
For more information about this product please visit semi-passive RFID response tag series , or contact sales@gaorfid.com.