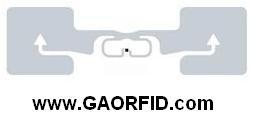 Toronto, Canada – GAO RFID Inc. has launched its UHF Gen 2 DogBone RFID tag which is a high-end RFID tag for global supply chain management and returnable transit items (RTI). It is ideally suited for pallet, case and item-level use.
This UHF Gen 2 DogBone RFID tag, model 115003, operates at a frequency range of 860 to 960 MHz. It incorporates Monza™ 4 ICs from Impinj and is equipped with outstanding new security features. This UHF RFID tag offers innovative, valuable features including QT™ technology which safeguards the confidentiality of data stored on tags and Serial Tag ID. It is compliant with EPC Class 1 Gen2 and ISO 18000-6C standards. The UHF RFID tag has an EPC memory capacity from 128 to 496 bits and a user memory size from 36 to 512 bits. In addition, it performs well even on high dielectric and other challenging materials.
This high-end RFID tag belongs to GAO's family of 865 MHz UHF RFID Tags. The line of products includes a variety of RFID tags to meet customers' different requirements. A featured model in this line is UHF 865 MHz.Gen 2 Philips UCODE Harsh Environment RFID Tag which is designed for direct mounting on metallic objects. Other models in the line include UHF Gen 2 RFID Frog 3D Tag, UHF 865 MHz.Gen 2 Philips UCODE Harsh Environment RFID Tag and other similar products. GAO RFID has one of the broadest portfolios of RFID readers and tags in the industry.
For sales inquiries please contact:
1-877 585-9555 ext. 601 – Toll Free (USA & Canada)
1-416 292-0038 ext. 601 – All Other Areas