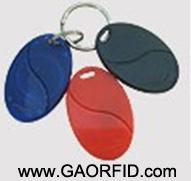 Toronto, Canada –GAO RFID Inc. has released its 125 kHz mini key fob tag. It is designed for a variety of applications including access control, parking control, authentication, event attendance management, ticketing, card payment, product identification and personnel tracking.
This passive RFID mini key fob tag, model 111008, features a compact size and a slot for a key ring or lanyard. It is durable and non-fading. It offers a tested read range of 3 to 15 cm with a fast read time of 1 to 2 ms. This key fob tag is available with a variety of RFID ICs including EM4100, EM4102, TK4100, T5557, EM4069, EM4150, HITAG1, HITAG2, HITAG S, 88RF 256-12 MF1S50, MF1S70, I-CODE1, LEGICMIM256, SR176, SR1X4K, ULTRALIGHT and TI2048. It has a memory capacity of 512 bits for data storage and provides more than 100000 rewrite times. This key fob tag comes in a variety of styles and colors. It is encased in ABS housing and is waterproof and shock resistant. In addition, a logo and ID can be printed on the housing.
This easy-to-carry mini key fob tag belongs to GAO's family of Low Frequency RFID Tags. 111007 in this family also has a key ring. This line of tags also includes laundry tags (111014) which meets the extreme demands of rotary ironing and other requirements in terms of heat, pressure and chemical resistance as needed in applications of contactless tracking of garments in the textile rental and laundry industries, disc RFID tags (111304), copper wire lock RFID tags(111005) and clamshell tags (111204).
For sales inquiries please contact:
1-877 585-9555 ext. 601 – Toll Free (USA & Canada)
1-416 292-0038 ext. 601 – All Other Areas
Tags: Key Fob Tag