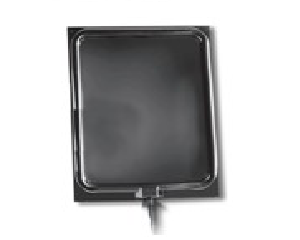 Toronto, Canada – GAO RFID Inc. has launched its high performance contactless low frequency (LF) fixed reader antenna panel, which is specially designed for applications with demand for long distance identification. In combination with stationary RFID readers, the antenna provides excellent performance even in noisy conditions. It is generally used for contactless identification of animals. It is a perfect solution for applications in agriculture and industrial automation.
This LF fixed reader antenna, model 312001, features a compact design and robust construction making it resistant to typical environmental influences. Different sizes are available allowing for an optimal choice in regards to reading volume and installation space. This antenna is able to be used in double sided arrangements with a single reader for applications that require large reading volumes. In addition, it allows for a read range of up to 80cm with HDX transponder of Ø 30mm or up to 55cm with FDX-B transponder of Ø 30mm.
Visit http://www.GAORFID.com for more information.
For any sales inquires please contact:
1-877 585-9555 ext. 601 – Toll Free (USA & Canada)
1-416 292-0038 ext. 601 – All Other Areas
For more information about this product please visit low frequency (LF) fixed reader antenna panel, or contact sales@gaorfid.com.