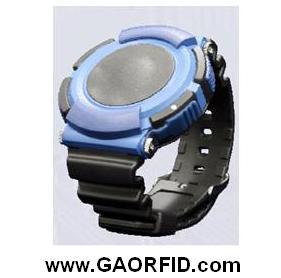 Toronto, Canada – GAO RFID Inc. recommends its UHF Gen 2 wrist watch RFID tag operating at a frequency range of 902 to 928 MHz. This RFID tag is well suited for personnel or access control applications such as patient tracking, event management or any people tracking application.
This UHF Gen 2 wrist watch RFID tag, model 116307, features a water and dust resistant design and is durable and comfortable. It is compliant with EPC Class 1 Gen 2 and ISO18000-6C standards and has a long read range of 2 m when used together with GAO RFID Inc's Handheld UHF RFID Reader. This Gen 2 RFID tag provides an IP68 protection ratingallowing it to perform well even in harsh environments.
This UHF Gen 2 wrist watch RFID tag belongs to GAO's family of UHF EPC Gen 2 RFID Tags. Other featured products in this line include 860 MHz to 960 MHz Gen 2 RFID Laundry Tag which offers a memory capacity of 96 bits and a long read range of 2 to 5 m; 860 MHz to 960 MHz UHF Gen 2 RFID Zip Tie Tag providing incomparable precision for the tracking of high-value assets such as electronic devices, communications/ network cards or servers; and Dual Locking RFID Clothing Tag successfully deployed in a number of department stores each of which has seen a return on investment by means of theft reduction.
For sales inquiries please contact:
1-877 585-9555 ext. 601 – Toll Free (USA & Canada)
1-416 292-0038 ext. 601 – All Other Areas